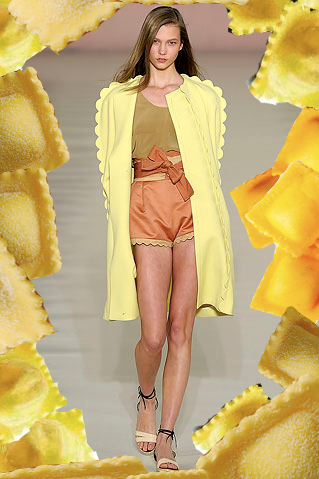 Ravioli, anyone?
I can't help it but when I see this petite coat from
Chloé
S/S 09 I think of ravioli. But it also makes me look forward to beautiful spring and summer days (even though it's months away..).
When it comes to New Year's resolutions I have a few (ok I'll tell them anyway, even if I shouldn't!) ;
- Stop biting my nails.
Seriously, who hasn't done that? I had a period when I managed to save my nails so there might be a chance.
- Stop checking eBay
. Well I can't stop completely, but I'll try to not have 45 items in my watching section..
- Spend more time with people I love.
Yup. I just wish I had more time.
- Focus on the future.
I'm not too old, yet, but I'd love to know very soon what I'll do in the future. Where and what should I study!? There are so many options = not easy as a pancake for sure.
So my friends, do you have any resolutions for 2009? I'd love to know!